INFORMATION OF INTEREST TO THE
MILWAUKEE AREA
BROADCAST ENGINEERING COMMUNITY
PUBLISHED MONTHLY BY
CHAPTER 28, SOCIETY OF BROADCAST ENGINEERS
---
THIS MONTH'S MEETING
T-Mobile's Acquisition of the 600 MHz Band

Tuesday, July 10, 2018
6:00 pm

WMVS/WMVT Ch. 10 & 36
1036 N 8th St
Milwaukee, WI
(map)
(Street View)

We will start with Dinner provided by T-Mobile at 6 pm.


Program Topic: Scott Hewett T-Mobile's National Outreach - Spectrum Management Consultant will give a presentation on T-Mobile's recent acquisition of the 600MHz band and how and when it will affect wireless Mics, IFB's, IEM's and other TV white space devices in the Milwaukee & Chicago PEA.
Enter the MATC "C" building at the corner of 8th and Highland and take the elevator to "TV" (4th floor).
Free street parking after 6pm. Paid surface lot and structure parking is available across the street on 8th st. between State & Highland.
For further information, please contact:
Ron Pellegrini
414-297-7611 (Ofice w/ VM)
608-898-1414 (Cell)
---
Meeting of Tuesday, May 15, 2018


Location: Milwaukee Radio Alliance
Host: John Church
Program:
Antenna & RF Design for the Repack
Attendance: 13 Members (7 Certified) & 1 guest
Meeting was held at the offices and studios of Milwaukee Radio Alliance, on Good Hope Road, Menomonee Falls.
After a meal of sub sandwiches and soda, the meeting was called to order by Chairman Chris Tarr at 6:08pm.
Minutes of the prior month, were approved by voice vote.
Committee Reports:
Frequency Coordination… there was one request for Miller Park at the end of the month for three or four channels of radio frequencies.
T Mobile, the cellphone carrier is sending a representative from Oregon to coordinate 'Repack' issues, and there is a tentative meeting, between interested parties for July 10th. There will be coordination by and between the markets of Green Bay, Milwaukee and Chicago. The meeting place is currently unknown. There will be a reach out to IATSE members to ask for their input, as well.
In the event that this meeting is scheduled as a hard date in July, the SBE meeting for June would be cancelled, and rescheduled for this July date.
Treasurer's Report… There is $4,478.00 in the treasury, and questions were raised why Chapter 28 did not receive their rebates from Indianapolis for the past two years. Chairman Tarr said he would reach out to Scott at National HQ to try and resolve this issue. (rebates are substantial and overdue for years '16/17 and '17/18.)
Certification… The deadline has passed for certification tests scheduled for early June, and also a June 1st deadline is approaching for the August Certification exams.
Old Business:
Picnic in summer? Maybe next year.
Mark Heller asked if Chapter offered Certification Reimbursement for members who desired to take the test. Chairman Tarr said such a program is currently in effect, but interest has languished for a long time.
EAS. Information was shared about the use of Multi-Lingual EAS tests, and the deadline has now passed to submit the number of people who were in the plans.
Spanish language radio stations responded.
New Business:
Milwaukee County EAS test was held two weeks ago on a Wednesday. The alert, treated like a RWT was received via the CAP EAS box.
Translators were approved for 101.1 in Waukesha for WAUK-AM 540 Jackson, and 99.9 was approved for the Sussex Expanded Band AM (Immac. Heart Media) licensed to Pewaukee.
Meeting adjourned at 6:27pm, and a presentation followed by Eddy Vanderkerken, Director of Sales for Radio Frequency Systems of Dallas, Texas.
Presentation ended at 7:30pm.
Remaining members were then given a guided tour of the studios and offices of Milwaukee Radio Alliance (WLUM, WLDB, WZTI). Tour ended by 8:05pm.
Respectfully submitted,
Mark Heller
---
WBA Fellowships Available

March 26, 2018
The

Don Borchert Broadcasters Clinic Fellowship

honors the founder of the Clinic by providing the recipient and expense free trip to the event, which will be held Oct. 9-11 in Madison. This fellowship is made possible through the financial support of the Wisconsin SBE Chapters and the Wisconsin Broadcasters Association.
To apply, CLICK HERE for the Borchert application
The

WBA Engineering Fellowship

provides a stipend for Broadcast Engineers serving Wisconsin member stations to acquire continuing education in broadcast engineering. The Wisconsin Broadcasters Association and the WBA Foundation will award up to (5) $1000 Grants statewide, which can be used for courses in Information Technology/Networking, Engineering Leadership/Management (such as the SBE Leadership Seminar), Electrical Engineering/Transmission courses, or other "new technology".
To Apply, CLICK HERE for the Engineering application.

---
SBE Short Circuits
by John Poray
Boston Suburb of Danvers is Site of the
2018 SBE National Meeting
June 27, 2018
The Society of Broadcast Engineers will bring the 54th SBE National Meeting to Danvers, MA, just outside of Boston, on October 2-3. The event will be held in conjunction with the
Media Resource Expo
(MRE), an annual New England regional exposition and educational event. The MRE includes a media equipment and services tradeshow and multiple technical sessions of interest to all media engineers, technicians, post-production, A/V and media IT professionals.


Serving as event host is SBE Chapter 11 of Boston. The SBE National Meeting begins on Tuesday afternoon, Oct. 2, with the fall meeting of the national SBE Certification Committee from 2:00 to 4:00 p.m. The fall meeting of the SBE Board of Directors will take place from 6:00 to 10:00 p.m. Attendance at the Board meeting is open to any SBE member. On Wednesday, activities begin with the annual SBE Fellows Breakfast, a reunion of SBE Fellow members including this year's inductee, Jerry Massey, CPBE, 8-VSB, AMD, DRB, CBNT. In the afternoon, the one-hour SBE Annual Membership Meeting will be webcast live to members around the world.


The SBE Annual Awards Reception and Dinner also takes place on Wednesday. The dinner will feature a guest speaker and the presentation of the society's major awards, including the Robert L. Flanders SBE Engineer of the Year and James C. Wulliman SBE Educator of the Year awards. The dinner program will conclude with the presentation of the Fellow honor to Massey.


The SBE chapter and individual awards will be presented during the dinner program. For chapters, they include the Best Chapter or Regional Educational Event, Best Chapter Communications, Most Certified Chapter, Highest Member Attendance and Greatest Growth in New Members.


Individual (or company) awards include: Technology Award, Facility Innovation of the Year, Best Technical Paper, Article, Book or Program by an SBE Member; Best Article, Paper or Program by a Student Member and the new Freedom Award.


The MRE is a one-day event, held on Wednesday, Oct. 3. MRE session topics and speakers will be announced in the coming weeks.


The SBE National Meeting and the MRE will be held at the Doubletree by Hilton Boston North Shore. The hotel is located 19 miles north, up I-95, from downtown Boston and Logan Airport.
Information about MRE registration and other details will be released later this summer.
Registration for the SBE National Awards Reception and Dinner is made through the SBE website.
Reservations are required
($16) and
made online at the SBE website
by calling the SBE National Office at 317-846-9000. There is no other registration fee to attend SBE National Meeting events.


Make hotel reservations at the Doubletree by Hilton Boston North Shore by calling 978-777-2500 and ask for the Society of Broadcast Engineers SBE discount. A special rate of $149 per night plus tax has been arranged for the event.

Save the dates and plan to make your way to Boston for this year's SBE National Meeting and the Media Resource Expo.
SBE Officer, Director Candidates Announced
for 2018 Election
June 26, 2018
Each year the SBE membership elects members to serve on the national Board of Directors; the governing body of the society. This includes all four officers for one-year terms and half the 12 directors for two-year terms. The slate of candidates assembled by the Nominations Committee includes:


Officers:
President

: James Leifer, CPBE; Chapter 11 Boston; Andover, MA
Vice President

: RJ Russell, CPBE; Chapter 18 Philadelphia; Middletown, DE
Secretary

: Wayne Pecena, CPBE, 8-VSB, AMD, DRB, CBNE; Chapter 99 Bryan, TX, College Station, TX
Treasurer

: Jim Bernier, CPBE, CBNE; Chapter 5 Atlanta; Alpharetta, GA

Directors:
(top six vote getters will be elected):
Stephen J. Brown, CPBE, CBNT; Chapter 80 Fox Valley; Appleton, WI
Roswell Clark, CPBE, CBNT; Chapter 39 Tampa Bay Area; Clearwater, FL
Kirk Harnack, CBRE, CBNE; Chapter 103 Nashville; Nashville, TN
Gary Kline, CBT; Chapter 5 Atlanta; Atlanta, GA
Vinny Lopez, CEV, CBNT; Chapter 22 Central New York; Syracuse, NY
Thomas R. McGinley, CPBE, AMD, CBNT; Chapter 16 Seattle; Missoula, MT
Jason Ornellas, CBRE, CRO; Chapter 43 Sacramento; Sacramento, CA
Shane Toven, CBRE, CBNT; Chapter 48 Denver; Laramie, WY
Daniel N. Whealy, CBTE; Chapter 96 Rockford; Sumner, IA


Additional candidates may be nominated by the membership. Any eligible member proposed by at least ten members to the national Secretary by July 6 will be added to the ballot. The election will take place July 20 through August 22. Balloting will be via the election website, except for those members who have opted out of electronic voting this year or who have not provided the SBE national office with their email address. They will receive their ballots through the mail.
For more information about candidacy, contact Secretary Wayne Pecena at wpecena@sbe.org, or Executive Director John Poray at jporay@sbe.org or 317-846-9000.
FCC Extends C-Band Earth Station Filing Window
June 21, 2018
In a public notice, the International Bureau of the FCC announced a 90-day extension, to October 17, 2018, to the filing window for fixed-satellite service (FSS) earth stations currently operating in the 3.7-4.2 GHz frequency band as announced in public notice DA 18-398 on April 19, 2018. The earlier notice announced a temporary freeze on new or modification applications, and established a 90-day filing window for existing entities to voluntarily register or license their FSS earth-station facilities. The FCC also waived the coordination report requirement for the duration of the freeze. That filing windows was due to expire on July 18, 2018.


Since the beginning of the freeze, many parties have submitted to the record their concerns about the volume of unregistered earth stations and the difficulties that many of these operators have faced in preparing the information for filing. These parties indicate that without some relief many operators will be unable to satisfy the filing deadline and the Commission will be without accurate information for its deliberations in the Mid-band Proceeding. To address these concerns, the International Bureau now extends the 90-day filing date for an additional 90 days, until October 17, 2018, in order to provide operators with more time to file applications, should they choose to do so. Only earth stations constructed and operational as of April 19, 2018 are eligible for filing during this window.


The FCC also clarified that applications to register multiple FSS antennas operating in this band that are located at the same address or geographic location may be filed in the International Bureau Filing System (IBFS) by using a single registration form and paying a single fee (fee code CMO, currently $435). Finally, the FCC announced the availability of an additional option to facilitate the registration of large numbers of geographically diverse earth stations by filing an application for a single "network" license and paying a single fee in IBFS (fee code BGV, currently $10,620).


SBE President Jim Leifer, CPBE, and SBE General Counsel Chris Imlay visited representatives from the FCC International Bureau and the Office of Engineering and Technology on May 22 with specific requests to ease the registration burden to broadcasters. The SBE is pleased that the FCC implemented most of what the SBE requested.


The SBE's requests were to extend the filing window, which it did, and to eliminate the filing fee. If the filing fee could not be waived, the SBE suggested a method of bulk filing for multiple stations or locations, which the FCC granted.
DA/FCC #: DA-18-639
Docket/RM: 17-183, 18-122
Get Ahead With the SBE
Membership Drive 2018
March 1, 2018
Help your colleagues develop their professional careers:
have them join the SBE today.
The SBE wants your help in recruiting new members, and you can win rewards for your efforts.

Sponsor a new Member, Associate Member or Sustaining Member between March 1 and May 31, 2018, and you will be eligible for the prize drawings. For each approved new member applications you sponsor, your will earn $5 off your 2019 membership dues, up to $25. Each new member application may have only one sponsor. Applications must be received at teh SBE National Office between March 1 and May 31, 2018, to e eligible. Drawing for all prizes will be completed by June 26, 2018.
New in 2018
: If you recruit three or more Regular or Associate Members, or one Sustaining Member, you will also receive an upgrade to
SBE MemberPlus
for the remainder of the 2018 membership period.
New members are welcome throughout the year. Here's the link to the member application:
SBE Membership application
Grand Prize
A trip to the SBE National Meeting
held in conjunction with the annual Media Resource Expo 2018 in Danvers, MA, Oct. 2-3, 2018. Prize package includes round trip airfare for one from within the continental US to the meeting; all SBE National Meeting and engineering conference events; and two nights at the host hotel.


SBE Leadership Development Course
Set for August 7-9, 2018
February 5, 2018
The Society of Broadcast Engineers will hold the 2018 SBE Leadership Development Course Aug. 7-9, 2018, in Atlanta, GA. This three-day course is an intensive study of successful leadership and management, designed specifically for broadcast engineers.

The course explores the nature of leadership, the difference between being a manager and being a leader, how to build a winning team, the importance of attitude in the leadership position, communication insights and so much more.
Instructing the course for the seventh year will be Rodney Vandeveer, professor of Organizational Leadership and Supervision at Purdue University. Vandeveer brings more than 30 years of experience in human resources management, training, development and manufacturing.
SBE CertPreview™
certification exam preparation software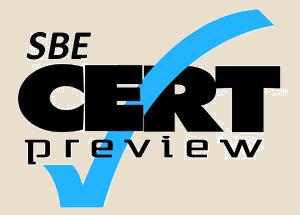 SBE CertPreview sample certification test software is available. It's a downloadable version with features to help review your areas of knowledge. Sample tests are available for Broadcast Technologist, Audio Engineer, Video Engineer, Broadcast Networking Technologist, Broadcast Engineer and Senior Broadcast Engineer in both radio and television. Sample tests contain approximately 100 questions each. You can review and change answers prior to scoring the sample exam, and can revisit the questions within the sample exam after the scoring process. You can also see the results by topical category, which helps you identify strengths and weaknesses.. It provides a list of resources from which to learn more about a subject.
The SBE CertPreview is a preparation for the following exams:
* Certified Broadcast Technologist® (CBT) - Radio
* Certified Broadcast Technologist® (CBT) - TV
* Certified Broadcast Networking Technologist® (CBNT®)
* Certified Audio Engineer® (CEA®)
* Certified Video Engineer® (CEV®)
* Certified Broadcast Radio Engineer (CBRE®)
* Certified Broadcast Television Engineer (CBTE®)
* Certified Senior Radio Engineer (CSRE®)
* Certified Senior Television Engineer (CSTE®)
* AM Directional Specialist™ (AMD™)
* 8-VSB Specialist (8-VSB) ™
* Digital Radio Broadcast Specialist™ (DRB™)

Cost for each SBE CERTpreview practice test is $32 for the download version or $36 plus $3 shipping for the CD. To order a copy, visit

https://www.sbe.org/certpreview/index.php
.
---
CERTIFICATION EXAMS
The Certification exam session dates for 2018 are listed below. For more information about SBE Certification, contact Chapter Certification Chair Rick Ryan at (414) 305-9374 or
RickRyan@wi.rr.com
, or contact Megan Clappe, Certification Director at the SBE National Office at (317) 846-9000 or
MClappe@sbe.org
.
| | | |
| --- | --- | --- |
| Exam Dates | Location | Application Deadline |
| Aug 3-13, 2018 | Local Chapter | Past |
| Nov 2-12, 2018 | Local Chapter | Sep 24, 2018 |

Fees for 2018 are as follows:
| | | | |
| --- | --- | --- | --- |
| Certification Level | Member | | Non-Member |
| Radio Operator | $54 | | *$54 |
| TV Operator | $54 | | *$54 |
| Broadcast Technologist | $56 | | $141 |
| Broadcast Networking Technologist | $65 | | $150 |
| Audio/Video Engineer | $70 | | $155 |
| Broadcast Engineer | $70 | | $155 |
| Broadcast Networking Engineer | $83 | | $168 |
| Senior Broadcast Engineer | $95 | | $180 |
| Professional Broadcast Engineer | $120 | | $205 |
| Specialist Certification | | | |
| AM Directional Specialist | $65 | | $150 |
| 8VSB Specialist | $65 | | $150 |
| Digital Radio Broadcast Specialist | $65 | | $150 |

*Does not include first year membership

Please support our sustaining members

Chuck Janzer
David Janzer
Associated Technical Services
10010 W Schlinger Avenue
Milwaukee, WI 53214-1129
414-476-4200
414-476-8417 fax
cjanzer@atswi.com
djanzer@atswi.com
http://www.atswi.com

David Kerstin
Broadcasters General Store
3840 SW N Street
Richmond, IN 47374
765-935-6707
765-935-6158 fax
dave@bgs.cc
http://www.bgs.cc/

GEPCO International
a General Cable company
1770 Birchwood Avenue
Des Plaines, IL 60018
847-942-7990 (cell)
http://www.GEPCO.com/

Dennis Klas
Heartland Video Systems
1311 Pilgrim Road
Plymouth, WI 53073
800-332-7088
920-893-4204
920-893-3106 fax
dklas@hvs-inc.com
http://www.hvs-inc.com


IBEW Local 715
Wisconsin Broadcast Engineers
633 S Hawley Road, Suite 107
Milwaukee, WI 53214-1948
414-479-0580
414-479-0582 fax

Randy Ross
Industrial Electronics
by Ross
3256 S 92nd St,
West Allis, WI 53227
414-327-1555
414-327-0577 fax
indelect@execpc.com
http://www.industrialelectronics.biz/

David R. Pritchard
Pritchard Consulting
7583 Dada Drive
Gurnee, IL 60031
847- 207-6111
W9QL@att.net

Tony Coleman
Hearst Television, Inc.
WISN-TV
759 N 19th Street
Milwaukee, WI 53233
414-937-3375
414-342-2657 fax
tcoleman@hearst.com
http://www.wisn.com

Sinclair Broadcast Group
WVTV/WCGV
11520 W Calumet Rd
Milwaukee, WI 53224
414-815-4100
414-815-4103 fax