In January of this year, the SBE announced that Executive Director John Poray would retire at the end of 2020. John has been the society's executive director for 28 years. In March, the process began to find a candidate to fill the position. (That process is detailed below.)
After receiving and reviewing multiple applications, the field was narrowed to three people. From those three, one was recommended to the SBE Board of Directors, which was reviewed at a board meeting held on Sept. 22. The Board approved the appointment of James Ragsdale of Anderson, IN. Mr. Ragsdale will officially begin work on Jan. 1, 2021.
Most recently, Ragsdale was the VP for finance at Anderson University. Ragsdale also completed his undergraduate degree at Anderson. In that role, he managed the operational budget for the private, liberal arts education institution, participated as member of the university president's leadership team, and oversaw the business office, human resources, physical plant, police and security, and auxiliary services.
Before his position with Anderson University, he was the senior financial analyst at Ascension Technologies, where he managed the operational and capital budgets for Indiana Market and St. Vincent Health system. Other career work includes treasurer and controller at Church of God Ministries and practice administrator at Anderson Family Practice Associates.
Ragsdale earned his bachelor of arts in business management and public affairs at (then) Anderson College, and his masters of business administration in finance from Indiana University.
On the announcement, SBE President Wayne Pecena said, "Following all the extensive work by many people to arrive at the final selection of Jim Ragsdale to be the SBE's new executive director, I welcome Jim and look forward to working with him to continue furthering the goals of the SBE and providing superior services to our members. I also want to thank SBE Past President Joe Snelson for his work leading the Executive Director Search Committee, and all the efforts of the EDSC and the Executive Director Search Advisory Group members."
The Selection and Review Process
In March of this year, SBE President Wayne Pecena proposed to the board that a five-person Executive Director Search Committee (EDSC) be formed with the goal of seeking out qualified candidates for the position and presenting a finalist to the board for approval. The tasks of the committee included writing a job description, establishing qualifications, proposing a fair compensation package, posting of the position, interviewing candidates and presenting a finalist to the board for approval.
To provide additional input to the EDSC, President Pecena formed an Executive Director Search Advisory Group to seek input on what should be expected from the SBE executive director in terms of duties and responsibilities, and the qualifications required to meet those objectives. This group of about 20 people consisted of SBE members and headquarters staff. Their input was used by the EDSC to finalize the job description of the executive director.
A field of 28 candidates was narrowed to three finalists, who were all interviewed in person by the committee. The Committee unanimously chose one finalist, James Ragsdale, to recommend to the Board.
---

SBE Short Circuits
by John Poray
SBE Presents John H. Battison Award
for Lifetme Achievement to
Mark Persons

September 25, 2020
The Society of Broadcast Engineers presented its Membership Meeting & Awards Presentation (MMAP) webcast on Sept. 23. The program, held online after the in-person events had to be cancelled because of COVID-19, combined the SBE's annual Membership Meeting and Awards Banquet presentations into one online event.
In addition to the previously announced awards, including the Robert W. Flanders SBE Engineer of the Year award to RJ Russell, CPBE, of Middletown, DE, and the 2020 James C. Wulliman SBE Educator of the Year awards to Fred Baumgartner, CPBE, CBNT, of Elizabeth, CO, and Roland Robinson, CBTE, CBNT, CTO, of Tacoma, WA, the event also recognized other individual and chapter efforts, as well as the two newest SBE Fellows, Ralph Beaver, CBT, and Jim Leifer, CPBE.
The MMAP also added a special surprise event. The SBE John H. Battison Award for Lifetime Achievement recognizes and pays tribute to individuals for their dedication, lifelong achievement and outstanding contribution to broadcast engineering. Nominees are SBE members in good standing and have been active for 40 years or more in the broadcast engineering industry or a closely allied field that benefits broadcast engineering. Nominations can be made by any member of the SBE and will include the endorsement of three other SBE members. There is no more than one recipient per calendar year. The recipient for 2020 is Mark Persons, CPBE, AMD, CBNT.
Mark, a life-long resident of Minnesota, followed in the footstep of his father, who was also a radio broadcast engineer. Mark started turning transmitter knobs more than 60 years ago.
While reaching the rank of sergeant in the United States Army from 1967 to 1969, Mark was in charge of an avionics repair shop for the OV-1 Mohawk high-tech surveillance aircraft in Vietnam. After his military service, he spent the next ten years with KVBR radio in Brainerd, MN, where he became chief engineer. In 1977, he opened his own radio engineering consulting business, which he operated for the next 40 years. He married his wife Paula in 1978, and she became instrumental in running the business side of the business out of their home.
Mark has been a respected engineer in Minnesota and the upper Midwest his entire career. He built 12 commercial AM and FM radio stations, and rebuilt, upgraded, maintained and repaired countless other radio stations for clients. He has endeavored to share his knowledge and experience with others in the field. He has written more than 140 articles that have appeared in industry magazines and made more than 25 speeches and presentations at industry conventions, conferences and meetings.
Mark joined the SBE in 1981, and is now a life member. He holds three life certifications from the SBE. Outside of his broadcasting career, Mark is a member of the American Legion, The VFW and Disabled American Veterans. He enjoys amateur radio as WŘMH, and photography.
Retired several years ago, he and Paula are mentoring younger broadcast engineers through the SBE Mentor Program. Mentoring is his way of giving back to the industry that kept him employed for more than 50 years.
On receiving the honor during the webcast, Mark said, "This really was a lifetime experience for me. I never had a plan B. I was always going to be a broadcast engineer, and that's exactly how it came out. I want to continue to contribute to the Society of Broadcast Engineers. Thank you."
---

Ennes Educational Foundation Trust Announces
Five Scholarship Recipients
August 28, 2020
The Ennes Educational Foundation Trust™ has awarded five scholarships for 2020. The recipients were chosen from applications received by July 1, 2020, from the previous 12 months.

The Harold E. Ennes Scholarship, Robert D. Greenberg Scholarship, John H. Battison Founder's Scholarship and newly created Gino Ricciardelli Scholarship are awarded to individuals interested in continuing or beginning their education in broadcast engineering and technology. The Youth Scholarship is specifically for a graduating high school senior interested in broadcast engineering as a career. Each scholarship awarded this year is for $2,500.

This year the Harold E. Ennes Scholarship recipient is
Chris Gamelin
of Middletown, CT. He says he knew he wanted to be involved with broadcasting since he was very young, whether it was playing music via the internet or broadcasting a basketball game at his school. His goals in broadcasting continue to evolve as he feeds his hunger to learn. He credits John Ramsey for teaching him the technical side, which is what Chris is pursuing. His professional work began with an internship at WQUN-AM. Since then, he has worked for iHeartRadio and Entercom Communications, and is now a maintenance technician for WFSB-TV.
Receiving the Robert D. Greenberg Scholarship is
Jon Sanelli
of Albertson, NY. Jon loves everything about broadcasting, and more specifically how it all works technically. He has worked on the engineering and production side in the New York City market at WRHU Radio Hofstra University, in addition to broadcast facilities in the five boroughs and the Tri-state. Jon knows that broadcasting needs technology, but more importantly, it is people that make the industry shine.
The John H. Battison SBE Founder's Scholarship has been awarded to
Ismail Otu
, CRO, CTO, originally from the Bronx, but now living in Charlotte, NC. He graduated from The Broadcasting Production Technology Program at Central Piedmont Community College (CPCC) in Charlotte. He served on Phi Theta Kappa International Honor Society's Vice President Committee, interned at WTVI PBS Charlotte, and earned the Most Outstanding Student Award at the Student Excellence Convocation on behalf of the CPCC's broadcasting program. Ismail plays several critical roles during live events and concerts for CPCC's performing arts and events facilities including sound board operator and stage/audio technician. While having extensive experience working as an audio engineer, he is devoted to becoming well-versed in other technical areas. Enthusiasm for audio fuels Ismail's IT skill development focusing on networking technologies. He plans to attend The Cleveland Institute of Electronics and major in Broadcast Engineering/Wireless Communication Electronics to pursue a career in broadcast operations.
The Gino Ricciardelli Scholarship, created earlier this year in recognition of Gino Ricciardelli, an SBE Charter, Life and Fellow member who died in 2018, has been awarded to Sadie Levy of New York, NY. She currently attends Northeastern University in Boston, where she is majoring in electrical and computer engineering, with a focus on media production. Sadie graduated from Fiorello H. LaGuardia High School of Music & Art and Performing Arts, where she worked on various school productions as a Digital Media Department Intern. Also, while in high school, Sadie was awarded scholarships to study digital electronics in pre-college programs at both The Cooper Union and New York University. Last summer, Sadie completed a media internship in a New York City government office, and this summer she is completing a media/design internship at ATEM NYC. Sadie is looking forward to contributing to the field of recording and new media.
Isaiah Dickson of Brookhaven, PA, received the Youth Scholarship. Isaiah is entering his freshman year at Cabrini University. He will major in digital communication and social media. His work has been recognized by the Population Media Center and the Scholastic Art and Writing Awards. He has been a part of the creation of a short film titled Marvelon as well as being part of the CollegeXpress student vlogger program. In his spare time he enjoys filming and editing his own videos, writing poetry, writing music, and live streaming.
SBE President Wayne Pecena, CPBE, 8-VSB, AMD, DRB, CBNE, said, "The SBE has an ongoing focus on education, and the Ennes Scholarships are yet another piece of the overall education effort. We look forward to seeing the great progress of these five budding engineers as they further their education goals with the assistance of the Ennes Educational Foundation Trust."
---
SBE Asks FCC to Extend C-Band Lump-Sum
Reimbursement Filing Deadline
August 19, 2020 (Updated August 21, 2020)
The Society of Broadcast Engineers on Aug. 17, 2020, filed a Motion for Extension of Time to Submit Lump-Sum Cost Reimbursement Payment Elections for C-Band Earth Station owners through Sept. 30, 2020. The current reimbursement submission deadline is Aug. 31, 2020.
C-Band Earth Station owners who registered their antennas and are eligible for cost reimbursement for the C-Band repack had the option to submit actual costs for reimbursement or apply for a lump-sum reimbursement as was published in Public Notice DA 20-802, released on July 30, 2020. That notice specifies a date of Aug. 31, 2020, for the lump-sum reimbursement election must be made and effectuated. The SBE suggests that this is an insufficient time period for broadcasters and broadcast engineers to satisfy the requirements of the Public Notice, and that an additional period of 30 days is required.
The Commission allocated the 3.7-4.0 GHz segment for auctionable 5G spectrum, and is holding the auction in December of this year. The Report and Order held that C-Band Earth stations in the fixed satellite service (FSS) would be relegated to the 200 MHz at 4.0-4.2 GHz, necessitating a repack of incumbent FSS Earth Stations operating in that spectrum. The Report and Order held that new 5G commercial mobile licensees will reimburse the reasonable relocation costs of eligible, incumbent FSS Space Station operators, incumbent FSS Earth Station operators, and incumbent Fixed Service licensees to move out of 3.7-4.0 GHz and into the 4.0-4.2 GHz segment. Through the FCC Wireless Bureau, FSS Earth Station operators are to be reimbursed for reasonable transition costs (through a published Cost Catalog) by the 5G auction winners.
While the Report and Order was released March 3, 2020, neither the Public Notice announcing the process, nor the Cost Catalog, was released until July 30, 2020, almost four months later. Because the Public Notice specified 30 days for a large number of broadcasters and broadcast engineers to evaluate, prepare and submit their election for lump sum payments, and during the COVID-19 pandemic, which has kept many from their workplaces, the SBE made the motion for the filing extension.
With the spectrum auction scheduled for December 3, 2020, and the relocation not scheduled until December 5, 2021, the additional 30 days for stations to file will not affect the repack process.

On August 20, 2020, the FCC issued an Order (DA-20-9091A) that extends the filing time to Sept. 14. From the order:
In this Order, the Wireless Telecommunications Bureau (Bureau) partially grants a request filed by the Society of Broadcast Engineers (SBE) seeking an extension of time for incumbent earth station operators to elect the lump sum reimbursement described in the Final Cost Catalog Public Notice. The Bureau, acting on delegated authority, waives the deadline established by section 27.1419 of the Commission's rules to the extent necessary to extend the lump sum election deadline to September 14, 2020.
---
SBE Re-Elects Wayne Pecena as President
August 20, 2020

The Society of Broadcast Engineers, the association for broadcast and multimedia technology professionals, announces the results of the 2020 election for the national board of directors. Wayne Pecena, CPBE, 8-VSB, AMD, DRB, CBNE, was re-elected as the society's president. Pecena is the associate director of educational broadcast services at Texas A&M University who operates public broadcast stations KAMU FM & TV. He is a member of SBE Chapter 99 in College Station, TX.
Regarding the election, President Pecena said, "I look to my second term as our industry and our personal lives have experienced change and challenge like never before. I want to ensure the Society brings a sense of normalcy to our members. This uniformity is accomplished through our professional development continuing education, certification and frequency coordination programs, while making the right decisions for change in the future to insure continued value to our members."
Others serving one-year terms as officers, which begin on Sept. 23, are:
• Vice President: Andrea Cummis, CBT, CTO; Chapter 15 New York; Roseland, NJ
• Secretary: Kevin Trueblood, CBRE, CBNT; Chapter 90 Southwest FL; Ft. Myers, FL
• Treasurer: Ted Hand, CPBE, 8-VSB, AMD, DRB; Chapter 45 Charlotte; Charlotte, NC
Serving two-year terms on the board of directors, which also begin Sept. 23 are:
• Stephen Brown, CPBE, CBNT; Chapter 80 Fox Valley; Appleton, WI
• Roswell Clark, CPBE, CBNT; Chapter 39 Tampa Bay Area; Clearwater, FL
• Kirk Harnack, CBRE, CBNE; Chapter 103 Nashville; Nashville, TN
• Thomas McGinley, CPBE, AMD, CBNT; Chapter 16 Seattle; Missoula, MT
• Shane Toven, CBRE, CBNT; Chapter 43 Sacramento; Antelope, CA
• Fred Willard, CPBE, 8-VSB, CBNT; Chapter 37 District of Columbia; Washington, DC
The national board of directors of the SBE is responsible for the development of policy and determines the programs and services the society provides to its more than 5,000 members. Those elected will begin their terms on Sept. 23, 2020, during the SBE Membership Meeting and Awards Presentation. They will join the other six directors who have another year remaining in their terms:
• Mark Fehlig, PE, CPBE, 8-VSB; Chapter 40 San Francisco; Walnut Creek, CA
• Charles "Ched" Keiler, CPBE, 8-VSB, CBNE; Chapter 53 South Florida; Ft. Lauderdale;
• Geary Morrill, CPBE, CBNE; Chapter 91 Central Michigan; Saginaw, MI
• Jason Ornellas, CBRE, CRO; Chapter 43 Sacramento; Sacramento, CA
• Chris Tarr, CSRE, AMD, DRB, CBNE; Chapter 28 Milwaukee, WI
• Dan Whealy, CBTE; Chapter 96 Rockford; Waterloo, IA
Jim Leifer, CPBE, of Andover, MA, continues as immediate past president.
The SBE National Meeting and Awards Presentation webcast will be held Sept. 23, 2020 at 7 p.m. ET/4 p.m. PT. The event is being held online in 2020 because of the ongoing pandemic.

RJ Russell, Fred Baumgartner and Roland Robinson
Receive SBE's 2020 Top Individual Award Honors
August 4, 2020
The winner of the Robert W. Flanders SBE Engineer of the Year award for 2020 is RJ Russell, CPBE, of Middletown, DE. The award is presented to a member who has excelled in his or her career while furthering the mission of the SBE. Candidates are nominated by their peers. The 2020 James C. Wulliman SBE Educator of the Year award has been awarded to two recipients: Fred Baumgartner, CPBE, CBNT, of Elizabeth, CO, and Roland Robinson, CBTE, CBNT, CTO, of Tacoma, WA. The award recognizes outstanding service and excellence in sharing knowledge through teaching other broadcast engineers.
Robert "RJ" Russell has been an SBE member for 21 years. During that time, he has served as director, treasurer, and vice president on the National Board of Directors as well as serving on several national committees. RJ also has held officer positions in various local chapters. He served proudly in the United States Marine Corps as a cryptography technician. After service in the military, he worked for several stations, including those owned by Media General, Sinclair, Cordillera, Catamount, Sunbelt, Univision, E.W. Scripps, and Fox.
RJ worked as a broadcast engineering manager on the Sprint Nextel Project from 2004-2008, assisting many television stations with the 2 GHz repack and reimbursement program. While employed by Brigham Young University, RJ was instrumental in the design and construction of a new 100,000 square foot BYU broadcast center and associated transmission paths and signals. RJ has spent many countless hours working on the ATSC 3 project station in Cleveland.
Most recently, RJ accepted the critically important position of SBE frequency coordination manager as an independent contractor through his company, TBSI. RJ has a vast and unique knowledge of the frequency coordination process and is the SBE's major representative to the Department of Defense and its contractors in the SBE-DOD-NAB transition process at 2 GHz. Through the direct involvement of RJ, who is respected very highly by the DOD, FCC and NTIA, the SBE and its members, broadcast licensees, and the DOD have benefited from the careful, meticulous planning that RJ has worked exceptionally hard on to maximize DOD-coordinated use of 2 GHz without constraint on broadcasters. RJ is presently overseeing preparation of a national database of 2 GHz users that will facilitate the work of SBE frequency coordinators, and he has revitalized the program at a difficult time in the history of volunteer frequency coordination.
Fred Baumgartner has been an SBE member for 47 years and has given countless hours to furthering the education of today's broadcast engineers through his work with the Ennes Educational Foundation Trust for 17 years, he spearheaded the annual Ennes Workshop during the NAB Show, and recently produced the SBE presentation on NextGen TV during the 2019 PBS TechCon. One nominee said of Baumgartner, "He was supportive of my goals re: SBE and helped get me in touch with others in the organization to help me grow in my involvement and education."
Roland Robinson
has been an SBE member for 24 years. He is an instructor of classes in broadcasting and video production at Bates Technical College in Tacoma, WA. Robinson has taught at Bates for more than ten years implementing an SBE-approved certification curriculum in his broadcast classes. The curriculum was recently renewed unanimously by the SBE National Certification Committee, the members being impressed by the curriculum presented by Robinson. Robinson also serves on the Washington State Emergency Communications Committee (SECC) and provides a valued service to Washington State broadcasters by creating and maintaining the complex Required Monthly Test (RMT) schedule.
The SBE 2020 Awards Program also recognizes other achievements from SBE members, chapters and SBE sustaining member companies.
MultiCAM Systems has won the SBE Technology Award for the Air Bridge. Air Bridge is a new video solution for including remote guests in shows or conferences. Up to four guests can be live at the same time, and up to 12 guests can be on the waiting list. Users send a link to the guests. Once that link is opened, the guest is connected to the show with the host's permission.

Chapter and Individual Awards
Chapters are the lifeblood of the SBE, and 2020 marks the seventh year that the Chapter Engineer of the Year Award has highlighted the achievements of members within their chapters. This year, seven chapters selected their own award recipients. Each winner will be presented with a special plaque and be recognized nationally on the SBE website and in a future issue of The Signal. The seven chapter winners also were automatically nominated for the national Robert W. Flanders SBE Engineer of the Year Award.

Chapter 37 in Washington, DC, has won the Best Educational Event for the NextGEN TV Summit held Jan. 16, 2020. The event was held in conjunction with SMPTE. Fred Willard, who helped produce the event said, "We were amazed at the number of folks that traveled great distances to attend this event. It was truly regional. Thomas Janner from Rohde and Schwarz flew from Germany just to present."

Statistical Awards
Percentage Growth of New Members:
Class A: 106 Florida Panhandle; Chapter Chair Mark Johnson, CSRE
Class B: 103 Nashville; Chapter Chair James Campbell, CPBE

Highest Percentage of Certified Members:
Class A: 115 Southern Idaho; Chapter Chair Thomas Kettwi, CBT
Class B: 131 Inland Empire; Chapter Chair James Alexander, CPBE, CBNT; Certification Chair Paul Claxton, CPBE, CBNT

Highest Percentage of Member Attendance at Meetings:
Class A: 112 Western Wisconsin; Chapter Chair Todd Zschernitz, CBTE
Class B: 69 Alamo Area; Chapter Chair Christopher Anderson

All the winners will be recognized at the SBE Membership Meeting and Awards Ceremony, held online on Sept. 23. Nominations for the 2021 awards will open in February.

Note: Class awards are determined using the median chapter size as of Dec. 31, 2019, as the dividing line between Class A (fewer than or equal to the median) and Class B (more than the median).

---
John Poray, SBE Executive Director, to Retire at End of 2020
January 2, 2020
Wayne Pecena, president of the Society of Broadcast Engineers, has announced that long-time executive director of the SBE, John Poray, has shared his plans to retire at the end of 2020. Poray joined the SBE as executive director on Oct. 1, 1992. During his tenure, the SBE has seen growth in membership, and in the society's certification, education and frequency coordination programs.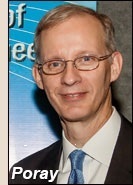 With the announcement, President Pecena added, "John has been a fixture of the SBE since 1992 who cannot be replaced. We can only seek to find a successor!"
Poray's entire 43-year career has been in the field of non-profit organization management. Prior to the SBE, he served with the International Headquarters of Kiwanis International, The Apartment Association of Indiana, The Columbus (OH) Apartment Association, and began his career with the Central Ohio Council, Boy Scouts of America. Poray was the first full-time executive director hired by the SBE Board of Directors, led at the time by SBE President Richard Farquhar.
With his announcement, Poray said, "I have been blessed to have had a long and productive relationship with the SBE, working with many great members, national leaders and staff. Together, we have worked to grow the SBE in size and stature and I believe the SBE is positioned well to continue to serve the broadcast and media engineers into the future. I look forward to a busy 2020 for SBE while assisting the Board of Directors with the transition."
In the coming weeks, President Pecena plans to meet with members of the Board of Directors to begin the search process for the next SBE executive director.
---
SBE Enhances MemberPlus Opportunity
October 28, 2019

On Jan. 2, 2018, the Society of Broadcast Engineers, the association for broadcast and multimedia technology professionals, introduced the
SBE MemberPlus
member benefit. The enhanced member benefit allows Regular, Senior or Associate members to upgrade their membership with full access to the more than 80 Webinars by SBE. Response to the SBE MemberPlus program has been positive, and more than 1,000 members have added SBE MemberPlus to their regular membership.
At the Board of Directors meeting, held Oct. 15, 2019, in Madison, WI, the program was further expanded to provide the member benefit to SBE Life members and SBE Student members, who previously could not participate in the program. Called SBE Life MemberPlus and SBE Student MemberPlus, SBE members in these two categories will be able to add the benefit to their membership beginning in January of 2020.
SBE MemberPlus has been available to Regular, Senior or Associate members for the cost of annual dues, plus $90; a total of $175. On Jan. 2, 2020, Life members will be able to add SBE MemberPlus to their membership for $90. Student members will be able to opt for SBE MemberPlus when they join or renew, also for $90. Existing SBE Life and Student members can add the option beginning Jan. 2 by contacting the SBE National Office by phone at 317-846-9000.

SBE President Wayne Pecena, CPBE, 8-VSB, AMD, DRB, CBNE, commenting on the member benefit, said, "The SBE educational efforts have grown significantly in recent years, and SBE MemberPlus provides the greatest access to our leading educational tool: Webinars by SBE. Providing access to Life and Student members allows younger, as well as more experienced SBE members, to continue learning by taking advantage of this popular benefit."
https://www.sbe.org/sections/WebinarsbySBE.php