INFORMATION OF INTEREST TO THE
MILWAUKEE AREA
BROADCAST ENGINEERING COMMUNITY
PUBLISHED MONTHLY BY
CHAPTER 28, SOCIETY OF BROADCAST ENGINEERS
---
THIS MONTH'S MEETING


Antenna and RF System Design for the FCC Repack
& Tour of the Milwaukee Radio Alliance

Tuesday, May 15, 2018
6:00 pm

Milwaukee Radio Alliance
(WLUM, WLDB, WZTI)
N72 W12922 Good Hope Road
(2nd Driveway East of Appleton Ave, or the
1st driveway West of the traffic light at Flint drive)
Menomonee Falls, WI 53051

414-491-3882
(map)
(Street View)

We will be starting Dinner at 6 pm. Following dinner,
we will conduct our monthly business meeting, followed by our evenings pesentation: Eddy Vanderkerden, Director of Sales, Broadcast Division of RFS will discuss Antenna and RF System Design for the FCC Repack. Eddy has over 30 years of experience in the sales of TV and Video test and measurement equipment. For 15 years, he was responsible for Rhode & Schwarz T&M products in his home of Belgium. Eddy came to the US with his family in 2001 ot expand the Rhode & Schwarz USA sales organization, and continued for 10 years. He is currently Director of Sales for Radio Frequency Systems (RFS) in the USA, and is actively engaged in teh FCC Repack.

Following our tehnical presentation, newly elected Program Chairman John Church will present a tour of his facility.
---
Meeting of Tuesday, February 17, 2018


Location: Entercom Communications Milwaukee
Host: Chris Tarr
Program:
Election of Officers & NAB Review
Attendance: 6 Members (3 Certified), and 1 guest
After a meal of pizza and soda, the Business meeting was convened by Chapter Chair, Christopher Tarr at 6:34 pm.
We begin with elections for officers and board members for the 2018-2019 business year. Nominations presented so far are:
Chapter Chair: Christopher Tarr
Vice Chair & Programming Chair: Dave Janzer
Secretary: Mark Heller
Treasurer: Chuck Janzer
Board Member, Radio: Dave Janzer
Board Member,
Television: Ron Pellegrini

Dave Janzer needed to decline the nomination for Vice Charman, and John Church accepted the nomination. Since each office was unapposed, the slate was approved by acclimation.

For this evenings program, Kirk Harnack from the
Telos Alliance (Telos/Omnia/Axia/Linear Acoustics) will join us via Skype to talk about the NAB show and some of the new offerings by the Telos Alliance.
Business meeting ended at 7:13pm.
Respectfully submitted,
Mark Heller
---
WISN-TV Seeking Asst. Director of Engineering
March 30, 2018
WISN-TV, Channel 12 in Milwaukee, has an opening for an Assistant Director of Engineering. Please visit the SBE Milwaukee website at
http://sbe28.org/c28_jobs.html
for information.
---
WBA Fellowships Available
March 26, 2018

The

Don Borchert Broadcasters Clinic Fellowship

honors the founder of the Clinic by providing the recipient and expense free trip to the event, which will be held Oct. 9-11 in Madison. This fellowship is made possible through the financial support of the Wisconsin SBE Chapters and the Wisconsin Broadcasters Association.
To apply, CLICK HERE for the Borchert application
The

WBA Engineering Fellowship

provides a stipend for Broadcast Engineers serving Wisconsin member stations to acquire continuing education in broadcast engineering. The Wisconsin Broadcasters Association and the WBA Foundation will award up to (5) $1000 Grants statewide, which can be used for courses in Information Technology/Networking, Engineering Leadership/Management (such as the SBE Leadership Seminar), Electrical Engineering/Transmission courses, or other "new technology".
To Apply, CLICK HERE for the Engineering application.

---
This years

WBA Summer Engineering Conference

is scheduled for June 20 in Milwaukee.

---
SBE Short Circuits
by John Poray
Get Ahead With the SBE
Membership Drive 2018
March 1, 2018
Help your colleagues develop their professional careers:
have them join the SBE today.
The SBE wants your help in recruiting new members, and you can win rewards for your efforts.

Sponsor a new Member, Associate Member or Sustaining Member between March 1 and May 31, 2018, and you will be eligible for the prize drawings. For each approved new member applications you sponsor, your will earn $5 off your 2019 membership dues, up to $25. Each new member application may have only one sponsor. Applications must be received at teh SBE National Office between March 1 and May 31, 2018, to e eligible. Drawing for all prizes will be completed by June 26, 2018.
New in 2018
: If you recruit three or more Regular or Associate Members, or one Sustaining Member, you will also receive an upgrade to
SBE MemberPlus
for the remainder of the 2018 membership period.
New members are welcome throughout the year. Here's the link to the member application:
SBE Membership application
Grand Prize
A trip to the SBE National Meeting
held in conjunction with the annual Media Resource Expo 2018 in Danvers, MA, Oct. 2-3, 2018. Prize package includes round trip airfare for one from within the continental US to the meeting; all SBE National Meeting and engineering conference events; and two nights at the host hotel.


SBE MemberPlus Shows Early Success
February 8, 2018
On January 1, the Society
of Broadcast Engineers,
the association for broadcast
and multimedia technology professionals, launched its
new member benefit, SBE MemberPlus. Adopted by
the SBE Board of Directors at its meeting in October 2017, the enhanced member benefit allows Regular, Senior or Associate members to upgrade their membership with full access to the more than 62 Webinars by SBE.
The SBE's relatively low dues already provide access to SBE publications, social media outlets, job listings, compensation survey results and access to a life insurance program, as well as member discounts for SBE certification, education programs and purchases at the SBE Bookstore. SBE MemberPlus provides more value to members who choose to enhance their membership.
Initial response to SBE MemberPlus has been positive. For less than the cost of two Webinars by SBE, SBE MemberPlus members have access to more than 62 online education programs that cover a wide range of technical broadcast and media topics.
SBE annual membership runs from April 1 to March 31. SBE members received their renewal notices in early February, and already, more than 125 members have renewed their memberships or joined the SBE and added the MemberPlus benefit.
On the initial success, SBE President Jim Leifer, CPBE, said, "The SBE Board of Directors expected SBE MemberPlus would be an attractive option to our members, but the response in the first several weeks of 2018 has doubled our exceeded our projections. SBE MemberPlus is an obvious value to SBE members."

Individuals can join or renew their traditional SBE membership as a Regular, Senior or Associate member (based on eligibility) at the rate of $85, and purchase any SBE online education program a la carte. SBE MemberPlus has all the benefits of traditional SBE membership and includes access to all the live and archived Webinars by SBE in the SBE catalog plus any new webinars the SBE adds during the membership year, but at a higher cost ($175).
The SBE has prepared a video explaining SBE MemberPlus.
Access to the SBE webinars through the SBE MemberPlus program is limited to the member-purchaser only. They are not permitted to distribute, sell, copy, share, project or otherwise make the webinars available to any other individual or group without express written permission by the SBE.
SBE Leadership Development Course
Set for August 7-9, 2018
February 5, 2018
The Society of Broadcast Engineers will hold the 2018 SBE Leadership Development Course Aug. 7-9, 2018, in Atlanta, GA. This three-day course is an intensive study of successful leadership and management, designed specifically for broadcast engineers.

The course explores the nature of leadership, the difference between being a manager and being a leader, how to build a winning team, the importance of attitude in the leadership position, communication insights and so much more.
Instructing the course for the seventh year will be Rodney Vandeveer, professor of Organizational Leadership and Supervision at Purdue University. Vandeveer brings more than 30 years of experience in human resources management, training, development and manufacturing.
Tony Peterle Appointed as
Ennes Educational Foundation Trustee
January 23, 2018
The SBE Board of Directors, atits meeting on Oct. 25, 2017,
approved the appointment of Tony Peterle, CPBE, to fill an open trustee position on the Ennes Educational Foundation Trust. The trustee position opened when Leonard Charles, CPBE, resigned from the Trust to devote more time to his retirement. Charles had served as a trustee since 2011. Trustees have no term limit.

Siegler Appointed to Fill SBE Board Vacancy
November 17 , 2017

The SBE Board of Directors, at its meeting on Oct. 25, approved the appointment of David Siegler, CPBE, to fill an open position on the SBE Board of Directors. The Board seat opened when Jim Bernier, CPBE, CBNE, was elected to the office of SBE treasurer in the recent election. Siegler fills Bernier's unexpired term that will end in the fall 2018.
Siegler is VP, technical operations, of Cox Media Group. He is based in Atlanta. He is also a member of the AFCCE, ATSC, IEEE, and SMPTE, and serves on the board of directors of the ATSC and the Journal Award Committee for SMPTE. He is a SMPTE Fellow Member and was awarded Broadcast & Cable's Technology Leadership award in 2015.

On the appointment and after the swearing in of the board and officers, SBE President Jim Leifer, CPBE, said, "Dave had previously expressed an interest in serving on the Board, so it was a natural choice to ask him to join the Board now. I'm glad to have him with us."

---
SBE CertPreview™
certification exam preparation software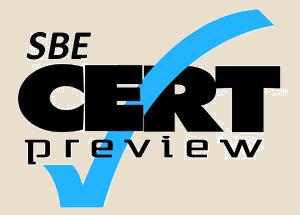 SBE CertPreview sample certification test software is available. It's a downloadable version with features to help review your areas of knowledge. Sample tests are available for Broadcast Technologist, Audio Engineer, Video Engineer, Broadcast Networking Technologist, Broadcast Engineer and Senior Broadcast Engineer in both radio and television. Sample tests contain approximately 100 questions each. You can review and change answers prior to scoring the sample exam, and can revisit the questions within the sample exam after the scoring process. You can also see the results by topical category, which helps you identify strengths and weaknesses.. It provides a list of resources from which to learn more about a subject.
The SBE CertPreview is a preparation for the following exams:
* Certified Broadcast Technologist® (CBT) - Radio
* Certified Broadcast Technologist® (CBT) - TV
* Certified Broadcast Networking Technologist® (CBNT®)
* Certified Audio Engineer® (CEA®)
* Certified Video Engineer® (CEV®)
* Certified Broadcast Radio Engineer (CBRE®)
* Certified Broadcast Television Engineer (CBTE®)
* Certified Senior Radio Engineer (CSRE®)
* Certified Senior Television Engineer (CSTE®)
* AM Directional Specialist™ (AMD™)
* 8-VSB Specialist (8-VSB) ™
* Digital Radio Broadcast Specialist™ (DRB™)

Cost for each SBE CERTpreview practice test is $32 for the download version or $36 plus $3 shipping for the CD. To order a copy, visit

https://www.sbe.org/certpreview/index.php
.
---
CERTIFICATION EXAMS
The Certification exam session dates for 2018 are listed below. For more information about SBE Certification, contact Chapter Certification Chair Rick Ryan at (414) 305-9374 or
RickRyan@wi.rr.com
, or contact Megan Clappe, Certification Director at the SBE National Office at (317) 846-9000 or
MClappe@sbe.org
.
| | | |
| --- | --- | --- |
| Exam Dates | Location | Application Deadline |
| Jun 1-11, 2018 | Local Chapter | Past |
| Aug 3-13, 2018 | Local Chapter | Jun 5, 2018 |
| Nov 2-12, 2018 | Local Chapter | Sep 24, 2018 |

Fees for 2018 are as follows:
| | | | |
| --- | --- | --- | --- |
| Certification Level | Member | | Non-Member |
| Radio Operator | $54 | | *$54 |
| TV Operator | $54 | | *$54 |
| Broadcast Technologist | $56 | | $141 |
| Broadcast Networking Technologist | $65 | | $150 |
| Audio/Video Engineer | $70 | | $155 |
| Broadcast Engineer | $70 | | $155 |
| Broadcast Networking Engineer | $83 | | $168 |
| Senior Broadcast Engineer | $95 | | $180 |
| Professional Broadcast Engineer | $120 | | $205 |
| Specialist Certification | | | |
| AM Directional Specialist | $65 | | $150 |
| 8VSB Specialist | $65 | | $150 |
| Digital Radio Broadcast Specialist | $65 | | $150 |

*Does not include first year membership

Please support our sustaining members

Chuck Janzer
David Janzer
Associated Technical Services
10010 W Schlinger Avenue
Milwaukee, WI 53214-1129
414-476-4200
414-476-8417 fax
cjanzer@atswi.com
djanzer@atswi.com
http://www.atswi.com

David Kerstin
Broadcasters General Store
3840 SW N Street
Richmond, IN 47374
765-935-6707
765-935-6158 fax
dave@bgs.cc
http://www.bgs.cc/

GEPCO International
a General Cable company
1770 Birchwood Avenue
Des Plaines, IL 60018
847-942-7990 (cell)
http://www.GEPCO.com/

Dennis Klas
Heartland Video Systems
1311 Pilgrim Road
Plymouth, WI 53073
800-332-7088
920-893-4204
920-893-3106 fax
dklas@hvs-inc.com
http://www.hvs-inc.com


IBEW Local 715
Wisconsin Broadcast Engineers
633 S Hawley Road, Suite 107
Milwaukee, WI 53214-1948
414-479-0580
414-479-0582 fax

Randy Ross
Industrial Electronics
by Ross
3256 S 92nd St,
West Allis, WI 53227
414-327-1555
414-327-0577 fax
indelect@execpc.com
http://www.industrialelectronics.biz/

David R. Pritchard
Pritchard Consulting
7583 Dada Drive
Gurnee, IL 60031
847- 207-6111
W9QL@att.net

Tony Coleman
Hearst Television, Inc.
WISN-TV
759 N 19th Street
Milwaukee, WI 53233
414-937-3375
414-342-2657 fax
tcoleman@hearst.com
http://www.wisn.com

Sinclair Broadcast Group
WVTV/WCGV
11520 W Calumet Rd
Milwaukee, WI 53224
414-815-4100
414-815-4103 fax