INFORMATION OF INTEREST TO THE
MILWAUKEE AREA
BROADCAST ENGINEERING COMMUNITY
PUBLISHED MONTHLY BY
CHAPTER 28, SOCIETY OF BROADCAST ENGINEERS
---
THIS MONTH'S MEETING
Will be held NEXT WEEK on the FOURTH TUESDAY


Creative Studio-Transmitter Links
for Radio Facilities


Tuesday, June 25, 2019
6:00 pm

Entercom Communications Milwaukee
11800 W Grange Avenue
Hales Corners, Wi 53130

414-427-1966
(Map)
(Street View)
We will serve dinner
at 6 pm.


Following dinner, Chris Tarr will discuss creative ways to implement Studio-Transmitter links fo radio facilities.
Meeting of Tuesday, May 21, 2019


Location: Entercom Communications Milwaukee
Program:
Nautel's 50 Tips and Tricks
Attendance: 9 Members (6 Certified) 1 guest and 1 new applicant


Hosted by Matt Rockwell of Entercom Madison, who facilitated the meeting, as Chairman Tarr was out of state. We thank him for his long distance drive and late hour help.
Meeting was called to order at 6:30pm by Rick Ryan.
Rick called for elections and asked for nominations from the floor. Having seen none, a ballot was announced as proposed:
Chairman: Chris Tarr
Vice Chair: Ron Pellegrini
Secretary: Mark Heller
Treasurer: Chuck Janzer
Chuck Janzer motioned, Mark Heller seconded, to elect the slate of candidates with acclamation. Motion passed.
Minutes of previous meeting were agreed to, and adopted.

Treasurer's Report: Chapter has same amount as last month.
Frequency Coordination: TNT cable channel is covering NBA playoffs at Fiserv Forum, and they brought the 'Blimp' for aerial shots. Primary downlink channel 10 is being used. The 'Blimp' uses Timmerman Airport as its Milwaukee base, while in town.
SBE President Jim Leifer was in town, earlier in the day with his wife, who are visiting major league baseball fields, and crossing them off on their 'bucket list'. They will visit the Minnesota Twins tomorrow, and then have eight left.
Certification Committee: The next round of tests will be from June 7th thru 17th, and there is one interested party, who is just now applying for membership.
Old Business: None
New Business: None
Business Meeting ended at 6:52pm, and Guest Presenter Jeff Welton of Nautel presented his "50
Tips'n'Tricks" for broadcast engineers
.
Meeting adjourned at 8:23pm.
Mark Heller, Secretary

Dems Pick Milwaukee
To Host 2020 National Convention
By Michael Burke –The Hill
March 11, 2019
Democrats are picking Milwaukee as the host city for the Democratic National Convention in 2020, four years after presidential nominee

Hillary Clinton

's loss in Wisconsin contributed to the election of

President Trump

.


Clinton was the first Democrat since Walter Mondale to lose Wisconsin to a Republican, and she has taken criticism for not visiting or paying attention to the state.


The decision to put the convention in Milwaukee signals the party's commitment to retaking Wisconsin in 2020. Democrats got a head start in the state in 2018 when they defeated longtime GOP Gov. Scott Walker.


The Democratic National Committee (DNC) announced Milwaukee had beaten out Houston and Miami to host the convention, which is slated for July 13 through July 16, 2020, and will be held at the Fiserv Forum. The arena was opened last year and is home to the NBA's Milwaukee Bucks.


The DNC noted that this is the first time the party will hold a national convention in the Midwest outside of Chicago since 1916. The party's convention in 2016 was in Philadelphia.
---
SBE Short Circuits
by John Poray
Chris Tarr Appointed to Fill SBE Board Vacancy
February 1, 2019
The SBE Board of Directors Executive Committee, at its
meeting on Jan. 26, 2019, approved the appointment of Chris Tarr, CSRE, AMD, DRB, CBNE, to fill an open position on the SBE Board of Directors. The Board seat opened when Kim Sacks, CBT, resigned her position on the board for personal reasons. Tarr fills Sacks' unexpired term that will end in the fall 2019.
Tarr is director of technical operations for Entercom Milwaukee/Madison, WI. He lives in Mukwonago, WI. Tarr served a previous term on the board as a director from 2006 to 2008. He will also take over as the chair of the SBE Mentor Committee. On his appointment, Chris Tarr said, "As someone who is passionate about the future of our industry, and an SBE mentor of two engineers, I'm honored to be able to continue the great work Kim Sacks has done with the Mentorship program."
On the appointment, SBE President Jim Leifer, CPOn the changes, SBE President Jim Leifer said, "Losing RJ as the VP of the SBE is unfortunate, but understandable given the circumstances. While his skill and abilities will be missed on the SBE leadership team, we are fortunate to have a deep bench of talent to continue the SBE's work."BE, said, "Chris has a boundless energy for broadcast engineering. With his previous experience on the board, I anticipate Chris will continue to grow the SBE Mentor Program, continuing on the great work Kim Sacks started."
Pecena Appointed SBE Vice President
After Russell Steps Down
April 18, 2019
The Society of Broadcast Engineers (SBE) announced that RJ Russell, CPBE, has resigned his position as vice president of the society effective April 12, 2019. Russell resigned in anticipation that his company, Technical Broadcast Solutions, will be hired to take on a significant SBE project in the near future. The SBE will announce that project when details are confirmed.
As per the SBE by-laws, the SBE president appoints SBE members to fill unexpired terms, subject to approval by the SBE Executive Committee. Following a meeting on April 17, the Executive Committee approved the appointment of Wayne Pecena, CPBE, 8-VSB, AMD, DRB, CBNE, to fill the remaining vice president term. Pecena was serving as secretary, and so President Leifer appointed and the Executive Committee approved board member Kevin Trueblood, CBRE, CBNT, to fill that role. With an opening on the Board, Leifer appointed and the Executive Committee approved former board member Jason Ornellas, CBRE, CRO, to fill the remainder of Trueblood's term, which runs through Oct. 16 of this year.
The SBE Executive Committee is comprised of the four officers, plus two appointees from the Board of Directors. Trueblood was already a member of the Executive Committee as an appointed board member. To fill that vacancy, Steve Brown, CPBE, CBNT, has been appointed and confirmed to serve through Oct. 16, 2019.
Wayne Pecena is the assistant director of educational broadcast services in the Office of Information Technology at Texas A&M University. In this position, he serves as the director of engineering of TTVN: The Enterprise Videoconference and Data Network serving the Texas A&M University System and Public Broadcast stations KAMU-TV and KAMU-FM serving the Brazos Valley area. He is a Fellow member of the SBE, and active in SBE Chapter 99 College Station, TX. He was elected to the SBE Board of Directors in 2012, and became secretary in 2016. He has chaired the SBE Education Committee since 2012.
On the changes, SBE President Jim Leifer said, "Losing RJ as the VP of the SBE is unfortunate, but understandable given the circumstances. While his skill and abilities will be missed on the SBE leadership team, we are fortunate to have a deep bench of talent to continue the SBE's work."
John Collinson Named SBE Fellow
April 9, 2019
The Society of Broadcast Engineers (SBE) has elevated John Collinson, CPBE, 8-VSB, AMD, CBNE, to the membership rank of Fellow. The SBE Board of Directors elected him at its meeting held Sunday, April 7 in Las Vegas during the 2019 NAB Show.
John Collinson, who joined the SBE in 1976 and is currently a Senior member, is the chief engineer at Ventana Television, Inc., a branch of HSN, in Saint Petersburg, FL. He has held that position since 1994. He previously was the chief engineer of WWSB-TV and WAAY-TV in Sarasota, FL from 2007 to 2008, and the chief engineer of WDAF-AM/KYYS-FM in Kansas City from 1987 to 1993. He attended Oklahoma State Tech and John Brown University.
Collinson has served SBE Chapter 39 Tampa Bay Area as chapter chair from 1999 to 2001, and chapter certification chair since 1995. In the early 1990s, he led the effort to restart the chapter. For the past 11 years, the chapter has presented an annual Broadcast Technology Symposium, and Collinson has been a leader in founding and continuing that project. Many chapter members credit him as being a driving force in keeping the chapter active with, as one of his Fellow nominators wrote, "his steady support and wise counsel even after he handed off the main leadership role to others."
One nomination credited Collinson's mentoring efforts: "[John] encourages both brand new and seasoned engineers to expand their knowledge and their level of certification. He takes the time to nurture young talent and has been instrumental in growing [the chapter's] relationship with St. Petersburg College with the goal of enticing more young talent to join our trade." Another nomination noted that because of Collinson's efforts, 19 St. Petersburg College students (and counting) have earned the SBE Certified Radio Operator Certification to date.
His dedication to SBE certification is boundless. One nominator wrote, "John is not only a great mentor for new members, but also pushes the membership as a group for higher certifications every chance he can."
Additional comments from his nomination include notes words of praise, including:
"John is always one of the first to volunteer for a project."
"John is an engineer's engineer."
"John is a shining star in our industry."
"John values our broadcast community, and it shows with his dedication year after year to the SBE, both locally and nationally."
On the SBE Board of Directors' approval of John Collinson's elevation to Fellow, SBE President Jim Leifer, CPBE, said, "The peer accolades expressed for John show the highest esteem of an SBE member, and recognizing him with the membership grade of Fellow is a testament to John's skill, attitude, professionalism and dedication to broadcast engineering. These are the marks of an SBE Fellow."
The Fellow honor is the highest membership level in the SBE. Members must have made significant contributions to the broadcast engineering field or the SBE. Candidates are nominated by their peers. Since the Society's founding 55 years ago, 79 members have been honored with the Fellow rank.
Collinson will be recognized for his election to Fellow during the SBE National Awards Dinner on Oct. 16, 2019, in Madison, WI, during the annual SBE National Meeting, which will be held in conjunction with the Wisconsin Broadcasters Clinic.

SBE Leadership Development Course Set for August 6-8, 2019
February 8, 2019
The Society of Broadcast Engineers will hold the 2019 SBE Leadership Development Course Aug. 6-8, 2019, in Atlanta, GA. This three-day course is an intensive study of successful leadership and management, designed specifically for broadcast engineers.
The course explores the nature of leadership, the difference between being a manager and being a leader, how to build a winning team, the importance of attitude in the leadership position, communication insights and so much more.
Instructing the course for the 11th year will be Rodney Vandeveer, professor of Organizational Leadership and Supervision at Purdue University. Vandeveer brings more than 30 years of experience in human resources management, training, development and manufacturing. Vandeveer also owns a leadership training business, VanTech Training. A previous course attendee said, "Rodney [Vandeveer] knows this stuff inside and out and makes it interesting as well. Plus the real-life examples from his careers help prove the points."
To register for this professional development opportunity, go to sbe.org/ldc. The enrollment fee is $670 for SBE members and $725 for non-members. The course will be held at the Hyatt Place Atlanta Airport-South. A special room rate of $118 per night is available. Mention the SBE Leadership Development Course when booking by phone, or reserve a room online. Questions? Contact SBE Education Director Cathy Orosz at corosz@sbe.org.
The SBE has presented the SBE Leadership Development Course since 1997. The NAB sponsored the course from 1965 to 1995. This intense course is designed specifically for broadcast engineers who have or aspire to have management responsibilities. Details on the course and registration information are available at sbe.org/ldc.
SBE WEBxtra Begins Pilot Run
February 4, 2019

Following the SBE strategic planning conference held in Jun 2018, the SBE has created several task groups to investigate and develop plans based on 46 action steps to accomplish the objectives of growing and retaining membership, attracting new and younger members to the SBE, and increasing participation in SBE activities among members. One of those action steps was to create a monthly virtual program for member engineers, technicians and other broadcast professionals, wherever they may be.
The task group, under the leadership of SBE Board Member Kirk Harnack, launched a three-episode trial of the SBE WEBxtra. The first episode aired live on Jan. 25. (Watch that episode now.) Additional episodes will air in February and March as part of a pilot program to evaluate the YouTube live stream. Harnack and his task group will present its collected information to the SBE Board of Directors at its meeting on April 7 in Las Vegas at the 2019 NAB Show.
The SBE WEBxtra is being developed as an SBE chapter of the web. It's not intended to replace the function and interaction of local chapter meetings, but to enhance member participation. This may be beneficial to SBE members who do not live near a local chapter.
For those holding SBE certification, viewing the SBE WEBxtra qualifies for 0.5 points in category G (attendance), just like attending a local chapter meeting.
The dates and guests for the February and March episodes will be announced as they are finalized.
SBE Files FCC Comments on Flex Use of 3.7-4.2 GHz
October 30, 2018
The Society of Broadcast Engineers, the association for broadcast and multimedia technology professionals, filed comments on Oct. 29, 2018, with the FCC in response to the notice of proposed rulemaking (FCC 18-91), released July 13, 2018. That notice sought comment on various proposals for transitioning all or part of the 3.7-4.2 GHz band for flexible use, terrestrial mobile spectrum, and explores options for more efficient and intensive fixed use of the same band, all while protecting incumbent C-Band satellite earth stations from harmful interference.
The SBE comments constitute a counterproposal that offers a reasonable alternative to dividing the 3.7-4.2 GHz band, a reverse auction, or other action that would not protect incumbent C-band receive-only earth stations. The SBE suggests that, given the huge number of C-band registrations since the opening of the window (now reportedly greater than 16,000), the FCC's initial premise that the C-Band could be shared with 5G as an overlay was simply wrong.
Recognizing that the European 5G proposal is 3.4-3.8 GHz, and since that offers 1 MHz of overlap with the U.S. proposal, the U.S, should adopt the European allocation, put the commercial broadband providers in the 3.4-3.7 GHz band and use the small overlap segment with C-band for local, private 5G networks critical for next-generation manufacturing and industrial applications. That is actually workable with C-band in the 100 MHz overlap segment. It leaves the vast majority of the spectrum, 3.8-4.2 GHz, intact with no 5G.
In contrast to other proposals, nothing is lost for current C-band users with the SBE plan. 5G moves into military radar spectrum, which was already designated years ago for broadband reallocation as part of the National Broadband Plan.
SBE Joins Professional Certification Coalition
August 15, 2018
Since February 2018, a number of states have considered legislation that could restrict how holders of SBE certifications, and hundreds of other non-governmental certifications, are able to use them. The intent has been to remove perceived employment barriers and is focused on state professional licensing laws. However, language affecting voluntary certifications offered by private organizations has been swept up into these bills.
The legislation varies by state. Some define certifications as solely created by the state, while others limit holders of certifications from using them to promote their business, or indicate their knowledge and experience to current or potential employees.
Legislation in Louisiana was successfully amended earlier this year, but a new law in Missouri went into effect earlier this summer that defines certification as only authorized by the state. Legislation is pending in Ohio, Illinois and Michigan.
The SBE has joined the Professional Certification Coalition (PCC), which was formed to challenge these legislative efforts. The coalition is led by the American Society of Association Executives and the Institute for Certification Excellence. It currently numbers more than 50 organizational members. The group is waging a campaign focused on educating state legislators and their staffs on how this legislation will negatively affect thousands of their constituents. Their aim is to modify the bills to remove any effect they have on certifications offered by private, non-profit associations and other certification granting organizations.
The SBE will be an active participant in this effort and may call on individual SBE members who hold SBE certifications to contact their state legislators. Watch for further updates in The Signal, SBE-news and SBE Legislative Updates and Alerts.
---
SBE CertPreview™
certification exam preparation software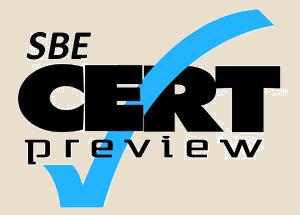 SBE CertPreview sample certification test software is available. It's a downloadable version with features to help review your areas of knowledge. Sample tests are available for Broadcast Technologist, Audio Engineer, Video Engineer, Broadcast Networking Technologist, Broadcast Engineer and Senior Broadcast Engineer in both radio and television. Sample tests contain approximately 100 questions each. You can review and change answers prior to scoring the sample exam, and can revisit the questions within the sample exam after the scoring process. You can also see the results by topical category, which helps you identify strengths and weaknesses.. It provides a list of resources from which to learn more about a subject.
The SBE CertPreview is a preparation for the following exams:
* Certified Broadcast Technologist® (CBT) - Radio
* Certified Broadcast Technologist® (CBT) - TV
* Certified Broadcast Networking Technologist® (CBNT®)
* Certified Audio Engineer® (CEA®)
* Certified Video Engineer® (CEV®)
* Certified Broadcast Radio Engineer (CBRE®)
* Certified Broadcast Television Engineer (CBTE®)
* Certified Senior Radio Engineer (CSRE®)
* Certified Senior Television Engineer (CSTE®)
* AM Directional Specialist™ (AMD™)
* 8-VSB Specialist (8-VSB) ™
* Digital Radio Broadcast Specialist™ (DRB™)

Cost for each SBE CERTpreview practice test is $32 for the download version or $36 plus $3 shipping for the CD. To order a copy, visit

https://www.sbe.org/certpreview/index.php
.
---
CERTIFICATION EXAMS
The Certification exam session dates for 2019 are listed below. For more information about SBE Certification, contact Chapter Certification Chair Rick Ryan at (414) 305-9374 or
RickRyan@wi.rr.com
, or contact Megan Clappe, Certification Director at the SBE National Office at (317) 846-9000 or
MClappe@sbe.org
.
| | | |
| --- | --- | --- |
| Exam Dates | Location | Application Deadline |
| Jun 7-17, 2019 | Local Chapter | Apr 19, 2019 |
| Aug 2-12, 2019 | Local Chapter | Jun 3, 2019 |
| Nov 1-11, 2019 | Local Chapter | Sep 24, 2019 |

Fees for 2019 are as follows:
| | | | |
| --- | --- | --- | --- |
| Certification Level | Member | | Non-Member |
| Radio Operator | $54 | | *$54 |
| TV Operator | $54 | | *$54 |
| Broadcast Technologist | $56 | | $141 |
| Broadcast Networking Technologist | $65 | | $150 |
| Audio/Video Engineer | $70 | | $155 |
| Broadcast Engineer | $70 | | $155 |
| Broadcast Networking Engineer | $83 | | $168 |
| Senior Broadcast Engineer | $95 | | $180 |
| Professional Broadcast Engineer | $120 | | $205 |
| Specialist Certification | | | |
| AM Directional Specialist | $65 | | $150 |
| Digital Radio Broadcast Specialist | $65 | | $150 |
| 8VSB Specialist | $65 | | $150 |
| | | | |

*Does not include first year membership

Please support our sustaining members

Chuck Janzer
David Janzer
Associated Technical Services
10010 W Schlinger Avenue
Milwaukee, WI 53214-1129
414-476-4200
414-476-8417 fax
cjanzer@atswi.com
djanzer@atswi.com
http://www.atswi.com

David Kerstin
Broadcasters General Store
3840 SW N Street
Richmond, IN 47374
765-935-6707
765-935-6158 fax
dave@bgs.cc
http://www.bgs.cc/

GEPCO International
a General Cable company
1770 Birchwood Avenue
Des Plaines, IL 60018
847-942-7990 (cell)
http://www.GEPCO.com/

Dennis Klas
Heartland Video Systems
1311 Pilgrim Road
Plymouth, WI 53073
800-332-7088
920-893-4204
920-893-3106 fax
dklas@hvs-inc.com
http://www.hvs-inc.com


IBEW Local 715
Wisconsin Broadcast Engineers
633 S Hawley Road, Suite 107
Milwaukee, WI 53214-1948
414-479-0580
414-479-0582 fax

Randy Ross
Industrial Electronics
by Ross
3256 S 92nd St,
West Allis, WI 53227
414-327-1555
414-327-0577 fax
indelect@execpc.com
http://www.industrialelectronics.biz/

David R. Pritchard
Pritchard Consulting
7583 Dada Drive
Gurnee, IL 60031
847- 207-6111
W9QL@att.net

Hearst Television, Inc.
WISN-TV
759 N 19th Street
Milwaukee, WI 53233
414-937-3375
414-342-2657 fax
http://www.wisn.com

Sinclair Broadcast Group
WVTV/WCGV
11520 W Calumet Rd
Milwaukee, WI 53224
414-815-4100
414-815-4103 fax