INFORMATION OF INTEREST TO THE
MILWAUKEE AREA
BROADCAST ENGINEERING COMMUNITY
PUBLISHED MONTHLY BY
CHAPTER 28, SOCIETY OF BROADCAST ENGINEERS
---
THIS MONTH'S MEETING

Insoft HDV-Mixer

Tuesday, February 20, 2017
6:00 pm

Entercom Communications Milwaukee
11800 W Grange Avenue
Hales Corners, Wi 53130

414-427-1966
(map)
(Street View)
We will be starting Dinner at 6 pm, provided by BSW. Following dinner,
John Lynch, Director of Business Development for Broadcast Supply Worldwide (BSW) and Alex Bonello, President of Insoft LLC and makers of HDV-MIXER will discuss this product.

The HDV-MIXER product is an "all in one" radio station solution for putting radio programs onto social media such as Facebook Live. "All in one" as in HDV-MIXER provides the cameras, switching, video player, 35 layers of graphics, on screen messages from viewers, news "crawl" and more all in one convenient package.

Mr. Bonello was lead developer of HDV-Mixer and will discuss the technology involved as well as demonstrate its use.
Product descriptions and video samples from the BSW website can be found at: https://www.bswusa.com/VIdeo-Software-HDVmixer-Small-Video-Package-P12279.aspx
for studio shows, or
https://www.bswusa.com/VIdeo-Software-HDVmixer-HDV-Sports-Package-P13080.aspx
for remote broadcasts.
---
Meeting of Tuesday,
January 16, 2018

Location: Saz's State House
Host: SBE 28
Program:
Holiday Banquet

Attendance: Total - 8 Members (5 Certified), and
2 guests
Members and guests gathered beginning about 5:30 pm for a social hour prior to dinner. After dinner, the normal meeting was suspended, and our Keynote Speaker was Dan O'Donnell from WISN, who spoke about the state of the radio industry, and Talk Radio. It was a very interesting topic, and discussion with our members extended for over an hour.
The evening program ended about 9:15 pm.
Respectfully submitted,
Rick Ryan
---
Rex Nielson
1942-2018
We were informed the evening of the Banquet of the passing of Rex Nielson. Rex was a friend to many of us, and was a long time member of our SBE Chapter.
We don't have any details at this time, but were told that he had been in hospice care.

---
SBE Short Circuits
by John Poray
SBE Leadership Development Course
Set for August 7-9, 2018

February 5, 2018


The Society of Broadcast Engineers will hold the 2018 SBE Leadership Development Course Aug. 7-9, 2018, in Atlanta, GA. This three-day course is an intensive study of successful leadership and management, designed specifically for broadcast engineers.

The course explores the nature of leadership, the difference between being a manager and being a leader, how to build a winning team, the importance of attitude in the leadership position, communication insights and so much more.
Instructing the course for the seventh year will be Rodney Vandeveer, professor of Organizational Leadership and Supervision at Purdue University. Vandeveer brings more than 30 years of experience in human resources management, training, development and manufacturing.
Tony Peterle Appointed as
Ennes Educational Foundation Trustee
January 23, 2018

The SBE Board of Directors, at
its meeting on Oct. 25, 2017,
approved the appointment of Tony Peterle, CPBE, to fill an open trustee position on the Ennes Educational Foundation Trust. The trustee position opened when Leonard Charles, CPBE, resigned from the Trust to devote more time to his retirement. Charles had served as a trustee since 2011. Trustees have no term limit.
Siegler Appointed to Fill SBE Board Vacancy
November 17 , 2017


The SBE Board of Directors, at its meeting on Oct. 25, approved the appointment of David Siegler, CPBE, to fill an open position on the SBE Board of Directors. The Board seat opened when Jim Bernier, CPBE, CBNE, was elected to the office of SBE treasurer in the recent election. Siegler fills Bernier's unexpired term that will end in the fall 2018.
Siegler is VP, technical operations, of Cox Media Group. He is based in Atlanta. He is also a member of the AFCCE, ATSC, IEEE, and SMPTE, and serves on the board of directors of the ATSC and the Journal Award Committee for SMPTE. He is a SMPTE Fellow Member and was awarded Broadcast & Cable's Technology Leadership award in 2015.
On the appointment and after the swearing in of the board and officers, SBE President Jim Leifer, CPBE, said, "Dave had previously expressed an interest in serving on the Board, so it was a natural choice to ask him to join the Board now. I'm glad to have him with us."
SBE Adds MemberPlus Benefit
October 30, 2017

The Board of Directors of the Society of Broadcast Engineers, the association for broadcast and multimedia technology professionals, during its National Meeting held in Denver Oct. 25-26, adopted a new member benefit that will be available beginning January 1, 2018, called SBE MemberPlus.
Since the society's beginning, SBE membership, with relatively low dues, has provided access to SBE publications, social media outlets, job listings, compensation survey results and access to a life insurance program at no additional cost. An SBE member's dues has also provided member discounts for SBE certification, education programs and purchases at the SBE Bookstore. It also has given members the opportunity to participate in local chapters affiliated with the national SBE.
SBE President Jim Leifer, CPBE, said, "The SBE MemberPlus option will provide more value for our members who choose to take advantage of this membership enhancement. We also believe it will help to attract new members to the SBE because of the extensive educational value it brings."
The SBE MemberPlus Option
Beginning January 1, 2018, individuals can choose to join or renew as a Regular, Senior or Associate member (based on eligibility) at the traditional low-cost rate of $85, and purchase any SBE online education program a la carte. SBE MemberPlus has all the benefits of Regular SBE membership and includes access to all the live and archived Webinars by SBE in the SBE catalog plus any new webinars the SBE adds during the membership year, but at a higher cost ($175). Currently, there are 61 webinars archived and available online, and the SBE will add one more before the end of 2017.
Free access to the extensive SBE webinar education resource is an enormous benefit. For less than the cost of two Webinars by SBE, the member who opts for SBE MemberPlus will have access to more than 62 online education programs that cover a wide range of technical broadcast and media topics. This includes the eight-part SBE RF101 series, the five-part Fundamentals of IT Networking, and many more.
SBE MemberPlus FAQ
Q:
Is SBE MemberPlus a new member category?
A:
No. SBE membership categories remain unchanged. SBE MemberPlus is still a Regular (or Senior or Associate) membership, but adds the benefit of full access to all Webinars by SBE.
Q:
Can I upgrade my Regular membership to SBE MemberPlus at any time?
A:
Yes. Annual membership renewal takes place on April 1, but an SBE member can pay the difference from Regular membership to SBE MemberPlus at any time to add the benefit. There will be no proration regardless of when the member makes the change.
Q:
If I join the SBE midyear, can I prorate any portion of my dues?
A:
New SBE MemberPlus members who join from Oct. through December will pay the full SBE MemberPlus rate, and then will pay a prorated SBE MemberPlus amount at their first renewal cycle the next year, just as Regular members do. This will coordinate those members with the April 1 - March 31 renewal cycle.
Q:
Can I add SBE MemberPlus to my SBE Student, Youth or Life membership?
A:
No. Members in these categories have the option of paying the full SBE MemberPlus rate if they wish. The difference between the SBE MemberPlus and Regular member rate cannot be added to the Regular dues rates for Student, Youth and Life members.
Q:
Can I renew before April 1 to take advantage of SBE MemberPlus?
A:
Yes. Members can elect to renew their membership as early as January 2 each year to access the SBE MemberPlus program. The Regular membership year cycle remains April 1 through March 31.
Q:
What if I do not renew my SBE membership by April 1?
A:
SBE MemberPlus members who do not renew by April 1 lose the SBE MemberPlus benefit at that time. Their membership reverts to Regular membership and is active until the three-month grace period ends June 30. The SBE MemberPlus benefits will be reinstated if the member renews after the grace period ends.
Access to the SBE webinars through the SBE MemberPlus program is limited to the member-purchaser only. They are not permitted to distribute, sell, copy, share, project or otherwise make the webinars available to any other individual or group without express written permission by the SBE
Transition Begins for Broadcasters
Leaving 600 MHz Band
August 25, 2017
The SBE has noted recently that users of wireless microphones and UHF low-power auxiliary devices at the close of FCC Auctions 1001/1002 have significant options for continued access to the UHF television band. Among these options is the continued availability of the 600 MHz band (614-698 MHz, above TV Channel 37) during the 39-month transition period that is scheduled to end on July 13, 2020. At the end of this transition period, all television stations that participated in the auction will have cleared the spectrum between 614 MHz and 698 MHz.
During the 39-month transition period, wireless microphones, intercoms and other low power broadcast auxiliary devices can continue to operate normally in the entire 614-698 MHz band. However, it will be necessary during this entire period to protect any broadband systems that acquired the spectrum in the auction that begin operations during the transition period.
The difficulty for broadcasters and video production entities in the use of wireless microphones and low-power auxiliary devices in the 614-698 MHz band during the transition is that we have no way of knowing precisely when a particular auction winner plans to light up in a given area. T-Mobile, which was one of the larger successful bidders at the auction, has been in close touch with the broadcast community on this subject. We have not heard from other auction winners about their scheduled deployment in the 600 MHz band.
T-Mobile helpfully has
released a list of counties
in which they intend to commence operations before the end of November 2017. The list comprises counties in which, generally speaking, there are no television stations subject to rebanding. There are numerous western areas that are largely rural on this list. T-Mobile will release subsequent lists as its rollout plans develop. If you plan to deploy wireless mics in any of the listed counties in the 614-698 MHz band (other than in the guard band or the duplex gap) subsequent to November 2016, you are obligated to ensure that no use of the band by auction winners has actually commenced by that time.
---
certification exam preparation software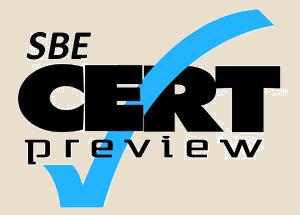 SBE CertPreview sample certification test software is available. It's a downloadable version with features to help review your areas of knowledge. Sample tests are available for Broadcast Technologist, Audio Engineer, Video Engineer, Broadcast Networking Technologist, Broadcast Engineer and Senior Broadcast Engineer in both radio and television. Sample tests contain approximately 100 questions each. You can review and change answers prior to scoring the sample exam, and can revisit the questions within the sample exam after the scoring process. You can also see the results by topical category, which helps you identify strengths and weaknesses.. It provides a list of resources from which to learn more about a subject.
The SBE CertPreview is a preparation for the following exams:
* Certified Broadcast Technologist® (CBT) - Radio
* Certified Broadcast Technologist® (CBT) - TV
* Certified Broadcast Networking Technologist® (CBNT®)
* Certified Audio Engineer® (CEA®)
* Certified Video Engineer® (CEV®)
* Certified Broadcast Radio Engineer (CBRE®)
* Certified Broadcast Television Engineer (CBTE®)
* Certified Senior Radio Engineer (CSRE®)
* Certified Senior Television Engineer (CSTE®)
* AM Directional Specialist™ (AMD™)
* 8-VSB Specialist (8-VSB) ™
* Digital Radio Broadcast Specialist™ (DRB™)

Cost for each SBE CERTpreview practice test is $32 for the download version or $36 plus $3 shipping for the CD. To order a copy, visit

https://www.sbe.org/certpreview/index.php
.
---
CERTIFICATION EXAMS
The Certification exam session dates for 2018 are listed below. For more information about SBE Certification, contact Chapter Certification Chair Rick Ryan at (414) 305-9374 or
RickRyan@wi.rr.com
, or contact Megan Clappe, Certification Director at the SBE National Office at (317) 846-9000 or
MClappe@sbe.org
.
| | | |
| --- | --- | --- |
| Exam Dates | Location | Application Deadline |
| Feb 2-12, 2018 | Local Chapter | Dec 31, 2017 |
| Apr 10, 2018 | NAB | Mar 2, 2018 |
| Jun 1-11, 2018 | Local Chapter | Apr 20, 2018 |
| Aug 3-13, 2018 | Local Chapter | Jun 5, 2018 |

Fees for 2017/18 are as follows:
| | | |
| --- | --- | --- |
| Certification Level | Member | Non-Member |
| Radio Operator | $54 | *$54 |
| TV Operator | $54 | *$54 |
| Broadcast Technologist | $53 | $135 |
| Broadcast Networking Technologist | $62 | $144 |
| Audio/Video Engineer | $67 | $149 |
| Broadcast Engineer | $67 | $149 |
| Broadcast Networking Engineer | $80 | $162 |
| Senior Broadcast Engineer | $92 | $174 |
| Professional Broadcast Engineer | $117 | $199 |
| Specialist Certification | | |
| AM Directional Specialist | $62 | $144 |
| 8VSB Specialist | $62 | $144 |
| Digital Radio Broadcast Specialist | $62 | $144 |
*Does not include first year membership

Please support our sustaining members

Chuck Janzer
David Janzer
Associated Technical Services
10010 W Schlinger Avenue
Milwaukee, WI 53214-1129
414-476-4200
414-476-8417 fax
cjanzer@atswi.com
djanzer@atswi.com
http://www.atswi.com

David Kerstin
Broadcasters General Store
3840 SW N Street
Richmond, IN 47374
765-935-6707
765-935-6158 fax
dave@bgs.cc
http://www.bgs.cc/

GEPCO International
a General Cable company
1770 Birchwood Avenue
Des Plaines, IL 60018
847-942-7990 (cell)
http://www.GEPCO.com/

Dennis Klas
Heartland Video Systems
1311 Pilgrim Road
Plymouth, WI 53073
800-332-7088
920-893-4204
920-893-3106 fax
dklas@hvs-inc.com
http://www.hvs-inc.com


IBEW Local 715
Wisconsin Broadcast Engineers
633 S Hawley Road, Suite 107
Milwaukee, WI 53214-1948
414-479-0580
414-479-0582 fax

Randy Ross
Industrial Electronics
by Ross
3256 S 92nd St,
West Allis, WI 53227
414-327-1555
414-327-0577 fax
indelect@execpc.com
http://www.industrialelectronics.biz/

David R. Pritchard
Pritchard Consulting
7583 Dada Drive
Gurnee, IL 60031
847- 207-6111
W9QL@att.net

Tony Coleman
Hearst Television, Inc.
WISN-TV
759 N 19th Street
Milwaukee, WI 53233
414-937-3375
414-342-2657 fax
tcoleman@hearst.com
http://www.wisn.com

Sinclair Broadcast Group
WVTV/WCGV
11520 W Calumet Rd
Milwaukee, WI 53224
414-815-4100
414-815-4103 fax